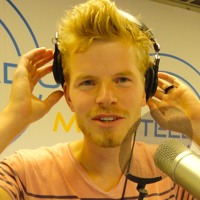 Around the area of Watarrka National Park (Kings Canyon), you don't come across too many options for Indigenous tourism.
I'm from the Netherlands, and was enrolled in the course, Social Entrepreneurship, at the University of Sydney Business School. The group assignment for this course was a market research project on tourism for Indigenous communities living in the area of the Kings Canyon. Thanks to a
Remote and Rural Enterprise (RARE)
Scholarship, I was able to visit the place myself.
I'm a radio presenter back home and therefore wanted to challenge my creativity. Also, I wanted to understand the different sides of the story. I decided to make an audio documentary on the topic of (the lack of) Indigenous tourism.
I interviewed different people while travelling, both Indigenous and non-Indigenous. Thanks to the generosity of the Australian band OKA, I was able to put some great music in it as well.
If you want to find out "where" Indigenous tourism is, check out my
podcast
on the subject.
Peter Melis
Current student at
The University of Sydney Business School
.